The Padua Charitable Fund was founded in July 2007 with the conviction that everyone has the basic right to a decent home, good health and education necessary to ensure the continuity of a safe, sound and happy society!
The Padua Charitable Fund is registered with the Charity Commission of England and Wales and with the Securities and Exchange Commission in the Philippines. We are organized and operated solely by volunteers. We have a Chairperson, a Secretary and a Treasurer, a Board of Trustees and approximately 30 members. Our members are united by their vision, albeit in their own small way, in helping to create a world devoid of poverty, homelessness, disease, ignorance and illiteracy, injustice and inequality.
Home is where the heart is
Our organisation makes financial contributions towards projects that aim to eradicate the slums of the Philippines by replacing these through the voluntary building of decent homes, to include basic and necessary facilities for homeless families as befit all human beings.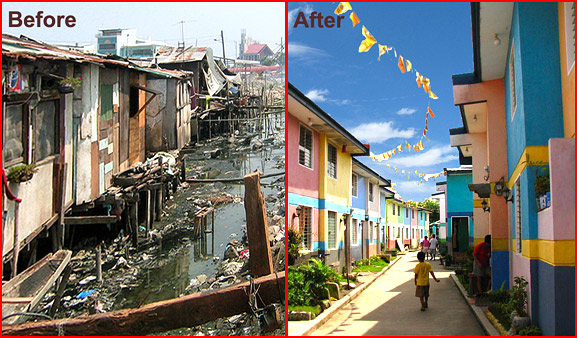 The project The Padua Charitable Fund currently supports is the building and creation of the Gawad Kalinga/Airlift Asia Inc. Foundation Village in Better Living, Paranaque, Manila.
Gawad Kalinga (GK)/Couples for Christ (CFC) is the foremost non-governmental, voluntary organisation in the Philippines whose main object is the eradication of slums nationwide by the "building of 700,000 houses in 7000 communities in 7 years". To date GK has re-built over 900 sites all over the Philippines. The aim is to have empowered communities whose residents are not just receivers but are givers as well. Their work is not about dole-out or charity, but self-reliance and a strong community spirit. It is about uplifting the dignity of the poor by building their capacity to respond to opportunities and enabling them to reach their highest potential. The replacing of the slums by the creation of bright multi-coloured houses is done by the slum-dwellers themselves and volunteers from all walks of life, including overseas. This is based on the Filipino spirit of "bayanihan" (concerted or group effort).
Educate and Liberate
We aim to further provide relief of financial hardship among these people and their families in order that their medical and educational needs of their children are attended to. We believe that education is the key ingredient by which the next generation of poor, deprived Filipinos can be liberated from the vicious poverty trap encircling their lives. We are therefore helping to fund the maintenance and operation of a community centre within these new housing developments. The centre will provide classrooms for education, a library and facilities for vocational training, handicrafts and computer studies as well as facilities for regular visiting medical and dental staff. We continually contribute school supplies and various items of clothing.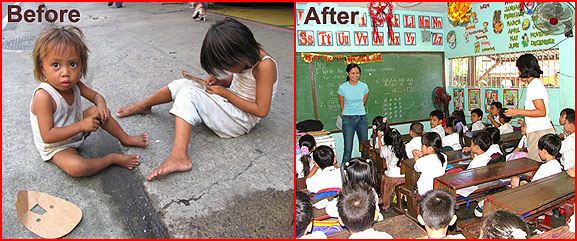 Street children do not go to school (left), Gawad Kalinga school with many happy pupils (right)
The people behind PCF

Isabel Padua-Grant is co-founder and treasurer of the Padua Charitable Fund. Isabel was born and raised in Manila and studied at St. Scholastica's college and at the University of the Philippines where she earned a degree in English and Comparative Literature (cum laude). Isabel, a mother of three girls, now lives in the United Kingdom. She is often asked to work for local councils, social services and the NHS to help with Philippine language translation and interpretation.
Isabel is the sister of late brothers Reggie and Blitz Padua (below)
Email Isabel Padua-Grant at:

Rose Ann Padua PhD is co-founder of the Padua Charitable Fund. Rose Ann was born in Manila and has lived in the UK from age 10. She is a prominent research scientist in Oncology, focusing on DNA immunotherapy for the treatment of leukaemia and lymphoma. Currently, she is working as INSERM Director of Research at Hopital St-Louis, Paris, France. Her career includes prestigious posts in the University of Wales, UCSF and Kings College London, as well as numerous publications in highly respected scientific and medical journals. Rose Ann's interest includes swimming, skiing, scuba diving and consuming as much theatre that time allows. Rose Ann's father is the late Alfonso Padua (below).
Dolly Padua-King is co-founder and secretary of the Padua Charitable Fund. Dolly, an open-minded forthright speaker, was born in Manila and has lived in the UK from age 10. Dolly is office manager at an architect's firm in London, and also an accomplished hairstylist having learned her skill in the USA. And if shopping were to be considered a talent, Dolly's definitely got it!
Dolly's father is the late Alfonso Padua (below)
Email Dolly Padua-King at:


And Finally... forever in our hearts...
The Padua Charitable fund was started in London in 2007 by the Padua family, a very large Filipino family with members living in England, the Philippines as well as the USA and Canada. The sudden passing away of Padua family members, Ponching (2006), Reggie and Blitz (2007), prompted the forming of the charity.
Alfonso "Ponching" Padua graduated top of his class in Civil Engineering (University of the Philippines), was a Fullbright scholar at Yale University, USA and had a long highly successful career in the Philippines, the UK and internationally. A father of five, he reared an equally successful family in London, England. Ponching was also a gifted singer and violinist and his talents in opera reached a professional standard. He is survived by his wife Rose and children who are co-founders of PCF.

Regino "Reggie" Padua (the 3rd), named after his grandfather Dr. Regino Padua (Ponching's late father), former Health Minister in the Philippines and co-founder of the World Health Organisation (WHO) in Southeast Asia, studied at La Salle College and the University of the Philippines and lived in the Philippines until his untimely death aged 54. A larger-than-life character, a successful businessman, a true entrepreneur and above all, a supporter of the underprivileged. Reggie founded Manila's top glass-etching company, Islas Designs, now run by his wife Maritess "Teng" Padua and helped by their son, Brian "Bayan" Padua.



Ceferino "Blitz" Padua Jr, (Reggie's youngest brother) studied at the Ateneo University and did law at the University of the Philippines. A talented musician and a genius at the piano and the electric organ, he composed over 200 musical scores in his time, winning several major awards for musical scoring in the Philippine film industry, including two best musical scores at the FAP awards (Film Academy of the Philippines). Blitz on: IMDB.com
It is because of their memory and legacy that the good we do for others is possible.