April 2013 - Fountain of Love School project
Padua Charitable Fund volunteer Rachel Grant, has pledged to raise funds to build a much-needed school for 150 children - typhoon survivors in Bani, Pangasinan in the Philippines. 100% of all profit from her first book collaboration "Making a Difference" is being donated to this school building project, also doubling up as a typhoon-proof shelter for some 600 villagers. Around 1 million pesos ($24,000 USD/£15,500) is needed for the construction and any more will go towards school supplies. The land for the school has been generously given for free!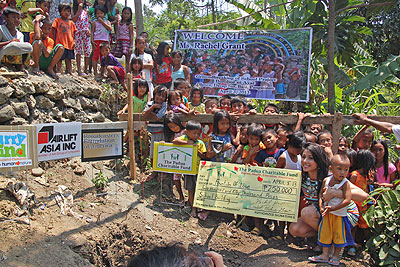 Rachel began fundraising earlier this year and successfully raised 250,000 pesos ($6,000) - the first donation to kickstart this wonderful project. On 3rd April 2013 the official groundbreaking took place in Bani with many donors present. Particular thanks goes to AAI (Airlift Asia Inc), Broadcasters Foundation of America, Oldwoods Resort, Furry Kind pet brand by Human Nature, Sweet and Sour of Australia, Dean Saladin and to Rene Natividad for donating a year's supply of school work books.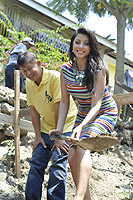 Rachel at the school groundbreaking with Mayor Navarro of Bani.
Here, Rachel wishes to share their incredible story she learned during a recent trip to the Philippines.
"We hear very tragic tales after a typhoon has devastated a region. However, there are always inspiring and miraculous stories of heroism, compassion and determination that go unheard. The "Fountain of Love" story is one of those.

It was on a beautiful beach in Bani, Philippines, where lived 600 "informal settlers". Happy in their thriving fishing community, they refused to leave their seaside homes as a tropical storm approached. One hour before the storm, the local authorities learned they were in the projected path of what was the eye of a typhoon. The region's Mayor left his family and went down to the beach in one last attempt to convince them to leave. Finally, one family stepped forward and into the truck, then another and another. Soon everyone was accounted for and on their way. However, as they were out on the road heading to safety, the typhoon made landfall. Windows were blown through their vehicles and trees went down blocking their path. Everyone huddled together and lay low as rooftops and debris flew past. Eerily, once inside the eye of the storm, all was calm and quiet. They could see bright blue sky and the sun was shining. It gave them hope.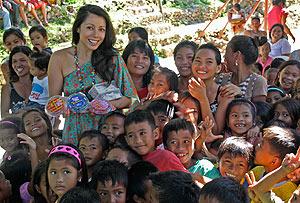 The region was devastated by the typhoon but every single person from the fishing village miraculously survived. Over 100 families of babies, children, adults and elderly lived through the eye of the storm. As for their homes on the beach? They had all been washed away and everything had gone.

The survivors lived in tents donated by the British for one year before moving into new brick houses on a pretty hillside in Bani. They called their village Fountain of Love - because it was built on just that.

I recently discovered the Fountain of Love and spent time with some 150 children living so very happily ever after. We brought them a box of toys, books, plenty of sweets and Insta-Snow for their first white Christmas experience. Taken by the humble community, their story, gratitude and generosity, I promised to raise funds to build them a much-needed school.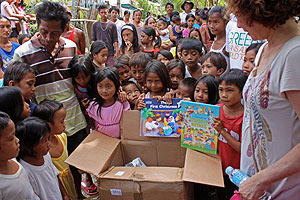 I believe every unfortunate situation in life can be turned around and made into something beautiful. No matter how sad, cruel or devastating an occurrence, with time, patience and understanding, there is a way forward by realising a bigger picture with greater benefits than ever imagined.

I hope this message finds you well. And remember - if there are storms in your path, they're simply clearing the way for a bigger and brighter tomorrow."
Rachel Grant is co-author of the humanitarian book "Making a difference" and 100% of all profit goes towards this project. Making a Difference is a wonderful collection of stories by Rachel about the inspirational people and organisations she has met on her travels in the Philippines and around the world. It also includes stories from the acclaimed ebook "Inspired By Manila" by Wheldon Curzon-Hobson about the ways in which the slums of Manila are being miraculously transformed. If you've ever dreamed that change is possible, that people really can make a difference, that there truly is hope for our world, then please read this book.
To purchase a copy, visit: www.rachelgrant.org
To donate, sponsor or supply to the Fountain of Love school building project please contact Rachel at:

Donations can also be made through PayPal here:
Thank you for your continued support!
Special love and thanks goes to Nelson Balmores and Tita Josh Monsanto.


Back to the news main page